By Towncriernewsnigeria
Out of a thousands one of the Lagos State Traffic Management Authority (LASTMA) ,a superintendent of LASTMA with Two Star ,Ambassador Akinwande Balikis Olabisi was early hour of today bags an award of Special Traffic Mayor with diligently,and commitment,of hardworking in Lagos State.
The event was a colorful event .
The event which took place at Orimolade Junction, college road, along Iju /Isaga road Ifako, Lagos State Southwest Nigeria
In a Speech delivered by the President of People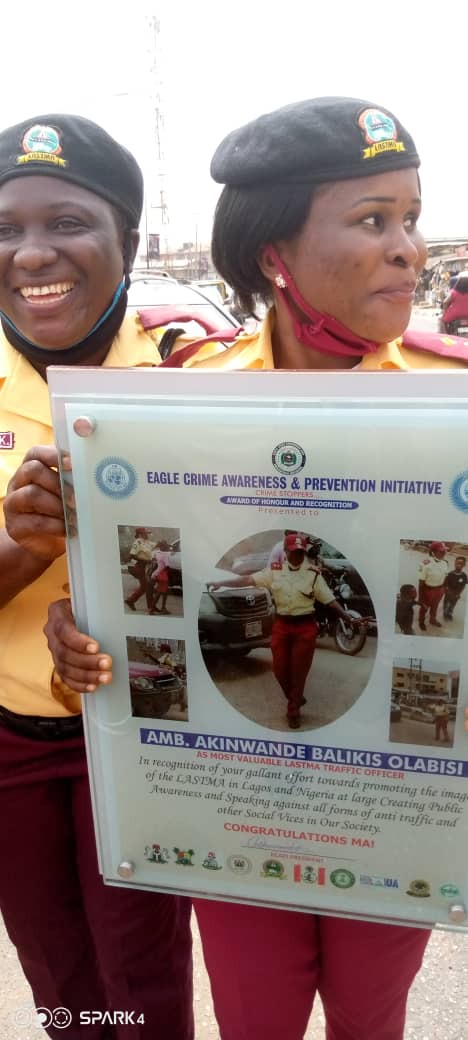 Crime's Awareness Initiative ,he said ,that ," Ambassador Eng. Samuel Eniola Adams Speech: and at the same time we appreciate any law enforcement personnel who are not by daily bread but by integrity.
"I was able to find out one among thousands of LASMA personnel in Lagos State that are doing this job in a right way not hiding in the corner, carrying stick, blocking vehicles, extorting money from innocent Nigerians.
" we are here today to celebrate our sister to give her honor because Eagle
People Crime's Awareness & Prevention Initiative is not only for Nigeria but across the border and we are today allocatively we have about 67 countries representative and in Nigeria as a whole .
" Our stake in Nigeria is over 200,000 and in lagos we are about 56,000 personnel who are working to educate the public against crime, to appreciate the working officers be you police, Immigration, Custom, LASTMA personnel, EFCC, NCDC people that work in a government house, is our duties, it is our responsibilities to show love and care to these people that are working diligently commitment to Hard work and not people that are hiding who are very very corrupt, but we find out that our sister is not a corrupt type, she is incorruptible LASTMA personnel.
" We have send letter to the GM officially to notify the GM that we are here today we have move around to the community, do some findings about their character maybe pranging or their the type who are taking , who are not failing to public, because they are public servant, Once you are a public servant you have to take, because one day you will retire and join the law makers as a probe civilian and that is the reason you have to have a good integrity any where you are serving, your integrity must speak for you.
" We have meeting with okada people, to asked them about the LASTMA Characters, attitude, especially they are very fantastic ,prudent people they mentioned three people, one man and two ladies working here, they say they are wonderful people, their working and they are just living with them as a brother and sister.
" So madam I thank you very much, it supposed to motivate you to do more, anytime you need anything maybe you lack any thing come to the capital
Amb. Akinwande Balikis Olabisi
The honored woman"Thank you Sir, it is a privilege sir".
Ambassador Eng. Samuel Eniola Adams "we will be there for you".
He further stated " I am representing all the entire Management Of People's Crime Awareness & Prevention Initiative. Our daddy here is still going to talk to you a fatherly advise, our sister our brothers here are going to talk to you brotherly , sisterly advise". Do not go back, Forward ever Backward Never. PCAP (People's Crime Awareness And Prevention.
Ambassador Dr Chief Bode Aro – Lambo Stated: It is our pleasure to give you this honored award, it is very important to recognized hard working, resilience, dedicated staff in this country, usually they do this when they are retired when they have gone, but our own system (PCAP) People's Crime Awareness Prevention Initiative we are an NGO since 2016 approved by the federal Government we are not indigenized alone we have spread all over the entire grass plant and Africa and Nigeria country, we are everywhere and we have undercover to about 36 different security organizations and aside that we are not only undercover
---