Towncriernewsnigeria
By Dedeigbo Ayodeji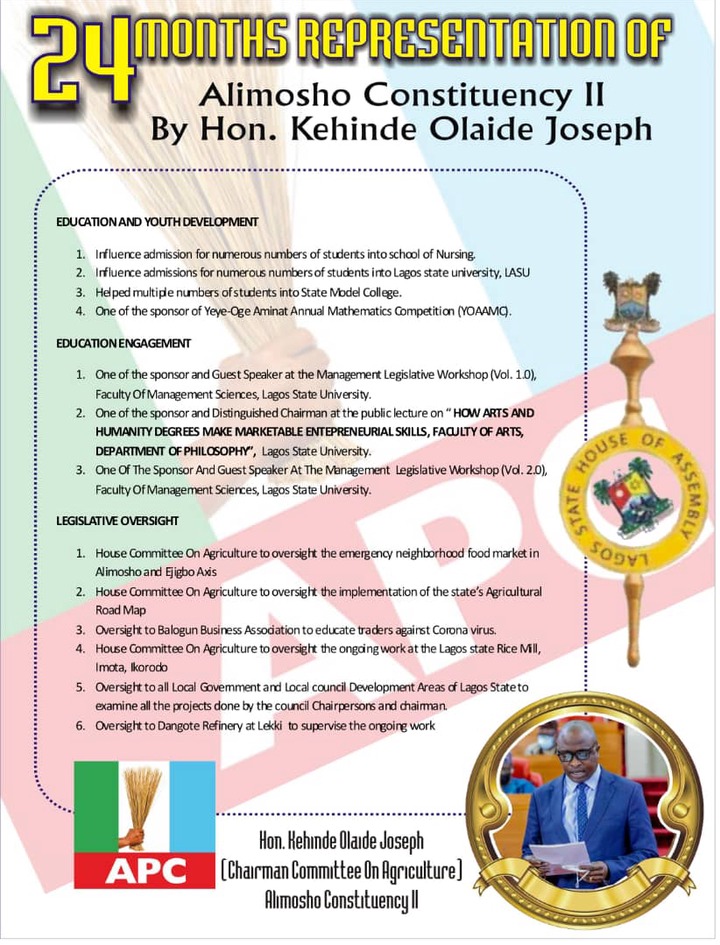 Dedeigbo Ayodeji
Putting the record right, today, 7th day of June 2021 mark the twenty-four months since Honorable Kehinde Olaide Joseph was inaugurated at the Lagos State House of Assembly as a member to represent the good people of Alimosho Constituency II, through the election which held on Saturday, March 9, 2019.
Within this time, he'd been able to showcase his stewardship of account as it pertains to his words with which he campaigned for the votes of the people. The last twenty-four months has been engaging and he'd hit the ground running from his very first day in office till date.
As we all know that the primary duties of a Lawmaker is legislation, representation as well as oversight functions, Honorable Kehinde Joseph had been able to ensure he play a significant roles regards this:
EDUCATION AND YOUTH DEVELOPMENT.
Influence admissions for numerous number of students into school of Nursing.
Influence admissions for numerous number of students into Lagos State University, LASU.
Helped multiple numbers of students into State Model College.
One of the sponsor of Yeye Oge Aminat Annual Mathematics Competition (YOAAMC).
EDUCATION ENGAGEMENT
One of the sponsor and a guest speaker at the Management Legislative Workshop (Vol 1.0), Faculty of Management Sciences, Lagos State University.
One of the Sponsor and a Distinguished Chairman at the public lecture on "How Arts and Humanity Degrees make marketable entrepreneurial skills, Faculty of Arts, Department of Philosophy, Lagos State University.
One of the sponsor and a guest speaker at the Management Legislative Workshop (Vol 2.0), Faculty of Management Sciences, Lagos State University.
LEGISLATIVE OVERSIGHT
House Committee on Agriculture to oversight the emergency neighborhood food market in Alimosho and Ejigbo Axis.
House Committee on Agriculture to oversight the implementation of the state's Agricultural Road Map.
Oversight to Balogun Business Association to educate traders against Coronavirus.
House Committee on Agriculture to oversight the ongoing work at the Lagos State Rice Mill, Imota, Ikorodu.
Oversight to All Local Government and Local Council Development Areas of Lagos State to examine all the projects done by the Council Chairpersons and Chairmen.
Oversight to Dangote's Refinery at Lekki to supervise the ongoing work.
CONSTITUENCY ENGAGEMENT
Weekly reports of activities from the Lagos State House of Assembly.
Yearly constituency stewardship program
COMMUNITY DEVELOPMENT ACTIVITIES
Installations of street lights across number of streets and powering with standby generators.
Automated Boreholes fully equipped with power machines.
Financial intervention to various CDAs
FINANCIAL INTERVENTION AND ROLLING OUT OF WORKING TOOLS
Support Artisans and SMEs with financial assistance
Roll out sum of N5m as a support to Youth and Women after the EndSars saga.
Roll out working tools and equipments to supports Constituents.
Assistance on payment of school fees for those in private schools and university students.
INFRASTRUCTURAL INTERVENTION
Rehabilitation of Ijegun Road.
Rehabilitation of Egbe/Isolo Road.
Isuti Road.
Abaranje Road (Ongoing).
Oladun Street.
Ikotun Roundabout and Installation of the Solar Light.
JOBS AND HUMAN CAPACITY DEVELOPMENT
Influence five (5) constituents who are doctors into Lagos State Ministry of Health.
More than twenty (10) constituents were influenced into Lagos State Management Agency (LASTMA).
Helped more than twenty (20) constituents to secure teaching jobs.
Influence the employment of over thirty (30) female constituents as ladies sweeper under LAWMA.
More than fifty (50) constituents benefitted in the Lagos State Agricultural Training.
Influence over fifty (50) Constituents to be amongst the beneficiaries of Lagos State Financial Assistance Funds.
Influence twenty (20) constituents to be part of the Lagos State Volunteer Corps Initiative.
Influence over one hundred beneficiaries to benefited in the Lagos Mortgage Board.
MOTIONS AND BILLS
Numerous motions was moved and supported.
Animal Bill
COVID-19 FOOD SUPPORT
Give out different food pabulums to vulnerable Constituents during Covid-19 pandemic.
Give out Emergency Food Response to Constituents.
Support Constituents with thousands pieces of Hand sanitizers, soaps and facemasks.
RESPONSE TO SENSITIVE ISSUES.
As we know that a great leader is not one who only shows character and strength in war and conflict but one who is adroit in managing the sensitive issues that make his people shed silent tears in peacetime. Hon Kehinde Joseph has shown amazing sensitivity to the issues that keep his people awake at night. He has demonstrated a keen appetite to listen to the heartbeat of the people and take their pulse every now and then to find out their silent pain.
Motions for the support to the victims of Ijegun Inferno.
Roll financial support to the victims of the EndSARS saga.
Conclusively, his unquenchable love for Alimosho and community consciousness is responsible for his decision to take proper care of the traditional rulers, Muslim and Christian Associations across his Constituency and make sure the members of each CDAs, CDCs among others are given sense of belonging.
---