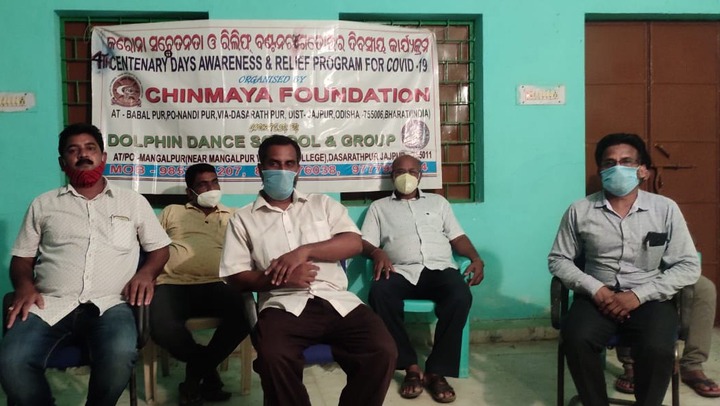 & Relief Distribution.
Since last 22nd March 2020AD the leading common peoples organization of Bharat (India), The Chinmaya Foundation & it's one part of the project Dolphin Dance School & Group do nonstop work for Covid-19 awareness & relief distribution for common,poor & needy peoples.
Yesterday it arrives 425th day.
On this occasion,the review meeting of the program of the past day work has been held in "Aunri" village of Binjharpur Block of the East-Jajpur District.
In this review meeting chaired by the national chairperson of the Chinmaya Foundation Mr.Chinmaya Dash.
As the Chief -Guest Mr Samarendra Sahu the Sarpanch of Aunri G.P, Chief-Speaker Educationalist Mr.LakshmiNarayan Mohanty ,and Honorable reviewer Mr.Nityananda Das,Sarbeswar Jena,Arjuni Charan Mallick & others are attended & reviewed the program.
The Director of Dolphin Dance School & Group Master Mihir Kumar expressed his opinion & thanked the meeting that the foundation is preparing for the upcoming cyclone "YAAS" on war-time basis.
---