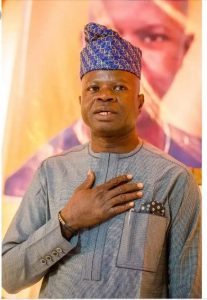 Good afternoon sir…
Yes, good afternoon.
Can we meet you sir?
Enilolobo Abdullai Ayinde is my name.
Okay sir…Can you tell us a little about yourself? Who is Enilolobo? We have been hearing your name, people know, people who have some, a lot of ideas about whom you are, who are you? Just tell us who you are…
I am Enilolobo Abdullai Ayinde from Ikorodu, Lagos State to be precise. I had my primary, secondary and higher education in the North. I came back fully after then to the South West, Lagos to be precise at 1993, since then, I've been in politics.
I started my political career right from the North during the SDP period. I was the secretary of the youth in Kaduna State, Zaria. The Late Hajia Gambo Sawaba was my boss. When I came back to Lagos, I started with P.O.H that was…………. I was the assistant publicity secretary of the state, I was the Vice Chairman of Prince of Hope, we all know what happened to GDM during the Abacha era after the termination of that era, AD.
I was the secretary of Alimosho when Alimosho was 11 Wards; I was the secretary of Ward B. I was also a youth leader for Bola Ahmed Tinubu Campaign Organization. I happened to be the first state recognized party leader when the progressives recognized the youth. I happened to be the first youth leader under AC. From there, I became the South West Youth Leader. I was the youth leader that mobilized for Asiwaju Bola Ahmed Tinubu during his first and second tenures as the Governor of Lagos State. I also became the LG Organizing Secretary for Egbe Idimu when the Local Governments was split to 57. Look, I have been the Organizing Secretary before the Youth Leader of the South West region, presently the state organizing secretary. That is Enilolobo Abdullai. I was a grassroots politician from the onset, and I still remain so till date.
So how do you react to those people spreading online that you were a vulcanizer and all that?
Thank you so much. The matter didn't start from the vulcanizer issue. It all started earlier before then. The vulcanizer issue might be the 10th or 15th episode. They started with, before you become anything in Alimosho, Enny would collect 30 to 35 million for you to become council chairman. The jack of the local government is being decided in his dominion and how to spend it. They said I used my tight friends, put them in position. A lot of things were said before it came to the issue of vulcanizer in my life. Vulcanizer issue is something petty. First, the vulcanizers, you must appreciate them, it's a profession. So, if proper care is not taken, you would talk of vulcanizers as if they are criminals, as if they are murderers. It's a profession that must be commended. As small as it is, without them, you can't move if anything happens to your tyre, when they are needed and you don't find them. So it's a profession. They said my mother was even a tenant. When you look at it, does that not look petty as well? Being a tenant, is it a crime? Who among us has never been a tenant? So when looking at it, that your style is too petty, looking for a means of tagging a dog a bad name just to hang it. They have lost all reasonable things to say about me.
Those things they write on the dailies and the social media gives me joy, and I would tell you why. Where there to be any atom of fact in what they are saying, I would have been affected by what they are saying, that haa, these people have got me… There was a response to why they called me a vulcanizer and my mother a tenant. One of the boys that was being used by the external forces to truncate and create problems in Alimosho, you all know him by the name Ejigbadero, he said to all Nigerians, to all the South West people, it has a meaning, we are Africans, tell me who your parents are and I can predict the kind of person you are.
In those days in Africa, when you want to get married, you would go and find out who my parents are, I would go and find out who her parents are to know the kind of attitude in that person, how they react. How can you bring a person who just joined us 2015 boasting, where it not to be him, we wouldn't have been enjoying the success. I know we are all blessed.
where it not to be him, we wouldn't have been enjoying the success. I know we are all blessed. We have conducted more than 10 elections before Ejigbadero joined us in 2015. Go and check the records. How can someone who came to enjoy our success, who met us with our success would now lay a claim to that success saying "where it not to be him, we would have loosed Alimosho". In responding to him and his background that it was during his 8 days naming ceremony that his father went to assassinate someone at Rajioba. In responding to that, they were looking for something to say about my parents too. The only thing they could say about my parents was to say, to attack me… Two things are fundamental here, his person was attacked to be a land grabber and his parents were also mentioned. In response to that, he first responded to me being a vulcanizer, how does a vulcanizer and your person, the kind of person you are all relate to you being a vulcanizer. The second one, your father was an assassinator, how does that relate to my mother being a tenant. When you look at them, you see in terms of dignity, we are far from each other; in terms of the game, he is just like a primary 5 student. We all know it that for you to complete your elementary school, no matter how good you are, you could have spent nothing less than 4 or 5 years in your primary school. He joined us 2015. How can you be boasting to be a leader or what he is claiming to be? Were we to go by that, by now, he ought to have just completed his primary 6.
(Laughs)
That is the truth. For you to have risen to where you are today, you know what you have gone through. Life is all about process. It's a process.
I don't understand… He has been in politics before 2015, but not on the platform of APC, that was why…
(Cuts in)… I am not in the mood for that, all I know is that he joined 2015. When he came, Joke Orelope denied him claiming that she knows him very well, that he is a hooligan. I'm saying this to the public.
But sir, in my…..
(Cuts in)… I have not completed it please… Joke Orelope denied him from coming to the party. Even those who embraced and welcomed him at Alimosho, they were suspended. It was the members of the G18 and I. They said why? That is democracy. When it comes to us, we would be able to submerge even if you can't join them. He as an individual cannot influence our attitude. We should be able to influence his attitude. So therefore, he cannot come in and make us to be what he is, rather than us changing that attitude. And politics is a game of number. For so many reasons, we lifted his suspension given by the ward chairmen, and lifted his own ban. That is all I know about him. He joined us 2015. He cannot join us 2015 and come to claim that were it not to be him, we would've lost the election. So that's what he has been saying…
Sir, you said Joke Orelope denied him. But with my interactions with Ejigbadero, he rightly said that he has been in politics for a very long time, not on the platform of the APC, that he has contested election before…
But he has contested… Where?
He said… My interaction with him… I had an interview with him, and it's in the interview. He said and I quote…
(Cuts in)… Well, in Alimosho, I won't want to argue… I would be very careful. How do I mean? I don't know of him being in politics before 2015. And those who contested against us, you're either in PDP or other party. We would have seen your posters…
(Cuts in)… This is my question sir… Based on my interaction with him, so he said as regards what you just said now about him, he said that the APC realized that Ejigbadero is a force to be reckoned with in Alimosho, and APC also realized that Ejigbadero has boss around him which the party made him, and if he's not somebody to be reckoned with in Alimosho that how possible will the party leadership in Alimosho promote him within the short period in which he joined the party.
So how would you react to that sir?
Thank you so much. I would also be very careful in responding to that. I want to be very moderate and not offend anybody or any institution.
The situation we made him to be appoint the head was what he appeared to be to us.
We called him fine boy. It was a game of all odds. I personally ensured that he became the head. I won't deny it, not for any reason yet.
I just did that then ignorantly. I was thinking and seeing him as a different person who would be level-headed. But to have claimed about forces to be reckoned with, it's nonsense.
I mentioned it initially that we have had series of elections before he came into the board at 2015. And we have not lost even a single Local Government in Alimosho.
How can you become a force, it's nonsense. In his Ward, what do we use to have when he joined us? What was the result of the Ward? Not to talk of the Local Government. What impact has he made in terms of electoral value? He always boasts that it was 2015 when he joined us that that was the time our record changed drastically.
I think anyone in his corridor of house can just lay a claim… He joined us 2015……. I have been in the practice since 1999, we've had election how many times, you yourself can calculate it. We Alimosho have not lost any election at all.
Let's see a single person that comes to meet us now, we embrace him as a ……. So we did to him, we embraced him. Let him too bring a single person to us now that he wants to join, we embrace him.
I think that's how politics should be played, and that's what we did. We did that do many people.
Shodinmu who was a politician that we all can attest to, when he came, we did the same to him………. If Shodinmu could join us and he left, during when he was with us, it made no difference. The difference he made was inconsequential, that's what I mean.
But for him to say that his presence…………. But he was a politician. Everybody knows him as a politician.
I promoted him, not for any reason.
I just like a young chap when I see a young chap. Within the jurisdiction which he represented, I felt he should be a bit more cultured and more organized. For that singular reason was why I chose him. And they fought me, all the other groups in the six local governments fought me to a standstill. So we had to reappoint again… It was with force……
Okay sir, let me quickly ask this question… How do you react to this… A lot of people within Alimosho as a whole are saying you're trying to disenfranchise people from the other group… The others, Joke Adefulire and Hon. Oduntan, that they are supporters that you're trying to disenfranchise them from the membership registration…
This registration?
Yes, that you said you won't register them. That they went to the Party Secretariat, they've been making a lot of noise, that you don't want them to register and all that…
(Cuts in)… When was this?
Just about a week ago…
They went to the Party Secretariat?
Yes… They have been making all the noise… They wrote, they put in online that you said you would not allow them to register…
I read it as I was coming here… Alani, one of my friends at the State, called me and said, Enny, I should go and check something online… Something have just been written about me.
I said what is it this time again. He said that I'm fighting Sanwo-Olu, that he won't return. What I did to Ambode during that time would be repeated to Sanwo-Olu.
That I called him and he wasn't responding to my call. For your information, I spoke to Sanwo-Olu last week, I called him and he picked up my call once and we spoke, and what I discussed with him, he gave me a positive response. So there are no critics for that.
In terms of the registration, honestly speaking, it's just a means of looking for cheap publicity and popularity. Why will I ask those that I know have up to 10% of our population… How will I deprive them. Except a mad man who is not a master of the game.
They have their aim of doing what they are doing.
It's just to get the attention of the leaders up there to come and help them handcuff me…. We are ready to play the game in the way it should be played… They will be registered. Let them go and bring a crippled person and back him up… we would register everybody. Firstly, let me correct one impression that Joke Orelope and Oduntan…. Let me tell you, Alimosho, we are one, Oduntan was an House of Assembly member. We have a leadership.
It was this leadership that chose him, not out of the leadership. Most of them, when they aspired and were unable to achieve their intention, they fall out and start looking for other source… They wouldn't have done this… One their own, they know they are too small, they know they can't on their own.
That is why they are looking for all means outside Alimosho to support them. Politics is a game of number. I know him to be an Alimosho person too well. He will tell you the truth. In terms of rating and measuring, they are not up to 10%. Why are we going to deprive them of registering? Why are they crying before the detail. What can you do from what I've not done? Why are you preempting? What they are claiming all over the world, before the court, before anywhere, no reasonable person will give this attention, they would just discard it… I'm looking at you, I don't know what's inside of you… Inside you, I can say you are looking at me that this guy is saying rubbish, I don't agree with it. But because you didn't say it out, I can't substantiate it.
If you say any rubbish thing that cannot be substantiated, honestly speaking, they must be seen as gutter persons… He must not be taken serious. They know themselves that they are not up to us in all political ramifications in terms of structure and number.
If they are so sure of themselves, they wouldn't have gone to social media doing all the blackmailing. I've been said that I was challenging Asiwaju, buffering round Aregbesola and Asiwaju…. No reason for that. It was just to create problem between me and our Principal who is Asiwaju Bola Ahmed Tinubu.
He said I granted an interview. I'm granting an interview now. This thing could be used against me… What they needed to do is just to put it on and play for everybody to hear. We challenged them to do that. They couldn't find that…They said I discussed with my political press, New Gem, they came up again yesterday to say that what I did to Ambode, we would repeat it for Sanwo-Olu. I didn't even mobilize kobo from Sanwo Olu for your information. No 'shishi' was mobilized by me to Sanwo-Olu. They claimed that it was in the G18, that such statement was made. The members of the G18 are here, not 10, 15 or 20. They should mention the names………… They've joined every possible thing to cause problem between me and God.. I'm a Muslim. The one they wrote last week is that I have a shrine in my room. You know what that means as a Muslim? Between me and God, you have created a conflict. You said I have a shrine, that when people comes to my house, they saw it….. You mentioned me against Asiwaju, that myself and Asiwaju, that myself, I was making Rauf to be more fit, to be the closest person to the Federal Government …. That's if I tried… Now you mention Sanwo-Olu. Don't be surprised, they would tell you, this people that came here, they are senseless people. Honestly! They keep on saying things. They can't substantiate it. Even the cheapest things. The media should help us. Before you people fly any information, you must ensure they are things that have substance, that people could back. The cheapest thing to do on earth is to make a false allegation about someone. Look at the sample I cited the other time, I can that just looking at me, you can say I was born a very ugly guy, he's just ugly, he does not know how to talk, look at the way he is speaking, rubbish… I can say that against you… For me saying should not be a problem, it would become a problem if I can't substantiate it. If I can substantiate it, it should not be a big deal… This has always been the normal issue during the electioneering period. The council chairman now is less than six months. The cook up a lot of things. That is the game they know how to do. And what we know how to do is to mobilize, ensure we have the majority in our side. To them, you must start framing me, crucifying us, lying against us….
Sir, there is this question. Based on my experience… I have been covering politics in the last 15 years. To an extent, I know how politicians think and how they do things. Fine, I'm an Alimosho person… If I want to speak outside in my profession, I know how to situate things. And if I want to speak as a professional or a journalist, I know how to situate it as well. Now I'm speaking as a journalist now. Sir, isn't it funny or something that propaganda, lies, cooking up stories about one another, isn't it part of the game. I was at an event yesterday, so at the event, we had an interview with someone, we talked and the other person said, I won't want to mention the name, but the interview is out anyway…That this is the game that is normal in politics…
Maybe we won't be able to attend to that for now because of the time constraint, so we would be cutting you short.. How can lie for goodness sake, when you see lie, is it part of the game or propaganda? So politics does not really worth it if lie and propaganda can be part of it. What you are saying, a godly and decent person should not come to the game. That is it. It's just the same. Like lying while you're selling, lying when you're marketing, lying when you're a banker… Is it not part of the game? The politicians have been taking the electorates to the masses, people within the society believed they can handle their lives, change their environment, cater for their needs. If those people who have been given such responsibilities are liars and spread propagandas, does it worth it? Should that be? I don't! One of the reasons why they hate me is that I won't lie. I'm too strict. One of the major things those politicians do is… You're here now, they came to me and said, you want to come out for House of Assembly or Reps, and I know you're just new in the system, and I know your effort, you may be financially buoyant… And I know there are many other things you need to achieve it. I would tell you… Politicians won't tell you. And I would tell you it's an advice, you have right to take to it or to abandon it. Please in Alimosho, whoever become party candidates is not because of his money. I won't ever loose. It's not because he is financially handicapped. I do tell them please, be careful of your spending. Your money would not be the major reason for you to have win the ticket in Alimosho. I do tell them…. Most of them would tell you………… I rather advise. I'm blessed with kids who are over 18 years of age. I can only advise them. I can't force them against their wish. I can only advise. Not to talk of an adult. Someone can be my age mate, older than I am in all capacity. So I use to advise and warn them, please be mindful. Go and look at our antecedents, nobody has become anything in Alimosho based on his financial strength. Your charisma, your political inclination, your CV, and what have you, would be added to the part of the reasons why you would be chosen. Nobody has ever become anything by his financial strength in Alimosho. I repeat again and I stand to the challenge, nobody has ever become anything in Alimosho based on his financial strength. It is only in Alimosho, be it a council chairman or the other. That is why you would see a papa who cannot boast of 50k, and we make him a council chairman. When we look at our antecedents, all you can see are just external forces…..
Sir, I want to buttress this because it has been so common… As they usually say, politics is a dirty game… That if you can't play a dirty game and do all of that, you can never join in politics… So how do you buttress that?
In responds to the initial response I gave. When you say dirty, what do you mean? All works are dirty… We are the reflection of our society in politics. When you go to those who are selling bags of rice at Daleko before you go to meet the mechanics, they know what they are telling you that you need to change or fix in your car has no problem, they only need to service it… To them, are mechanics not dirty? When you go to Daleko, they will tell you that you bought a 50kg of rice, when you get home, you would discover it is 40kg or 45kg. What they are saying is a reflection of our society and it is applicable to all aspect of our lives. That is why we must help to change it. A lot of people who have their own personal attitude would bring into politics.
Why is politics so complex than any organization or institution? Why is it? I would tell you… In politics, where it to apply to bank now, that you want to be a banker, there is going to be an interview, they would interview, you will go through screening. The essence of that is to see how fit you are mentally and what have you. That is, are you fit to handle this organization? But in politics, no screening… Where you to be in the Ward now, let one mad man who is putting on underwear… You know all of us are putting on normal regalia, normal clothes, let one foolish man who is putting an underwear or singlet come into the Ward, honestly speaking, he has right to sit down in the meeting, and when we are discussing, you will just see him raise up his hands, and say, please the money you shared yesterday… and say all forms of rubbish, before you know it, you will discover there are more mad people who are well dressed. They would be supported. They will say, allow him to talk now, he has every right to talk now… even though it is very clear to them that this one is a mad man…That's what make politics really complex than any other institution. So don't be surprised about anything you're seeing on the social media. It's a reflection of this definition…
But what of in the areas of political thuggery? Can you please emphasize on that?
This response has answered that too now. Why won't you have thugs who wake up in the morning and join politics without a single kobo? You don't have to come with your CV; they won't ask you, where have you worked before? What are your antecedents? What's your livelihood? So you see a lot of things in it. We understand it. Honestly speaking, we are on top of the game. Same is applicable to these you're seeing on the social media. It's not all that can write that you see on social media that are level head. If not, people would be praising Obasa today. By Nigeria standard, by the world standard, any reasonable person would be praising such person. Even by now, Abacha that has the higher position as the Head of State of Nigeria, would not boast of having an account established by the government institution. People would be praising Eji that we all know who gave birth to him. The gene of his father who was a hired assassin… These are facts, there are things you say, let them challenge me; let them come out to talk… A council chairman of Alimosho let me tell you, they wrote a petition against him that he gave out a contract of 7 million naira to someone… Honestly, I would've come with the letter. That's why they invited me to the House of Assembly. On the petition letter, I was invited because 7 million naira was paid to a contractor and 6 million naira was transferred to my own account. Honestly, without calling me, without requesting for me, what they needed to do is just to ask him, "Present me the teller where you sent the money to Enilolobo". If that person says that the incident all happened in 2019, it's not impossible that he has misplaced the teller. It owes no kobo for him to go back to his bank and print out the statement of account. He didn't do that. If I've been found wanting on that, by now, I would've just gone and kept quiet somewhere and say this people have got me… That is not where I'm going… Such person, we called him on phone where he invited the council chairman and said 6 million naira was paid to Enilolobo… That person said that "no oo, they didn't pay any money to him oo"… The following week, they invited him… I think they felt something must have transpired someone who denied that? you can't change it because a petition letter has been written.. They now said, that 6 million, they gave 3 million to the council chairman, and that money, he came to collect it from him at the bank, but he can't really remember the face… I can swear on that… They now said they are not sure, but it seems like that 3 million naira, it seems it was Enilolobo's account they transferred it to… For goodness sake, you don't need to be a lawyer… Were you to be in that position, what would you have done? Does that case have anything substance?
Three things have happened. A petition was written that a 7 million naira contract was awarded; 6 million was transferred to Enilolobo's account…
They called him on phone, he denied it. He came physically to say council chairman collected 3 million from him, 3 million naira was given to an unknown person he cannot identify… But from what he sees, that it seems the 3 million was transferred to Enilolobo's account.
That's a defamatory statement…
If they could do that to me, and yet the House of Assembly is inviting me, do they have to invite me before they know the truth… You people should answer it… Must you invite me?
What's this guy name that was arrested in Dubai?
Hushpuppi…
Go abroad, they would've done all their investigations, but because of political witch-hunting, the ……….. just want to downgrade me, crucify my name, paint me black before the whole world… Put yourself in my shoes, that is what happened… And I challenge the guy today, that 3 million, let them go and print it out… It's a case that needs no evidence again… The evidence needed, the teller you used to initiate the payment, where is it? The incident was 2019, I didn't notice it would turn out this way, I could not find it, I've misplaced it… It is possible now… Abi?
Then go to your bank…
….….. would stay there and help you call the bank…. Your chairman was so so so…. Calling from House of Assembly, please we need a so so thing for so so person within so so so… Honestly speaking, within 10 minutes, they would print it out without collecting kobo… And they dragged that thing; we saw it on social media… How way better can I explain myself to you than this? That I'm innocent of all these lies… What other better way? Except a mad person who just believes he wants to be part of them… He said that he granted an interview… This is an interview I'm granting now, abi?
Yes…
It's recorded that I said Asiwaju, we have Aregbesola is more preferred in the North. We also challenge that… You can present this anywhere now?
Yes sir…
That this is the interview Enilolobo granted so so time… They could not… The brought out another one again yesterday about Sanwo-Olu… Must any reasonable person continue to listen to them? They went to say we denied them… Any reasonable human being for goodness sake, the process would last for two weeks abi?
Exactly…
Let them deny you once for the first day so that you can have evidence. The most cheapest thing to do is to allege people now… The easiest thing to do is to make an allegation now… Why will someone just allege me with all these evidences you've seen earlier before now. And yet any reasonable person would still believe them? We're solely committed to Asiwaju, my boss… I have Aregbesola too, he is also committed and loyal, and his loyalty has been tested severally. Rauf Aregbesola will remain loyal to Asiwaju forever and ever… Has he ever told us that he has an aspiration for becoming the President of Nigeria? What he told us was that Asiwaju is too close to it, that we should start all in our power to support his aspiration. How could you be alleging such people just because you want to play him down politically so as for you to get to his position …..
Sir, these people we are talking about, they are same party members, right?
Yes.
And the local government elections is six months away from now, won't that affect the curtains of the party in Alimosho. That's one. Then secondly, our local government chairmen, are there mechanisms in place by the party to ensure that they perform? For instance, in Agbado Oke-Odo, because I live in that axis. There are complaints even before the late chairman died that development is not happening in that area.
Presently now, are you observing any difference?
For me, I've not seen…
Okay.
Because of the time constraint, let me quickly. It boils down to what you mentioned the last time. Recently, you said Asiwaju is the sole candidate of the party…
(Cuts in)… Of course, in Alimosho… In Alimosho, we don't see him as an aspirant, this is Asiwaju's country… Let me site that sample to you… Sorry for cutting you short. This is my friend, the other one is also my friend. Both of them are coming out aspiring for the same position. I'm not seeing him as an aspirant, to me, he is as a candidate. The whole Alimosho have agreed that Asiwaju to us is not an aspirant, but a candidate… Come now, come tomorrow, we are voting for him. Ask us to vote immediately now, he has our vote already. To us, he's a candidate. That's all we need. As far as Alimosho politics is concerned, aside God, it's Asiwaju we believe in. We adore him politically. So to us, Asiwaju is not an aspirant.
About the local government elections…….…, won't they have effect
---