Posted By Admin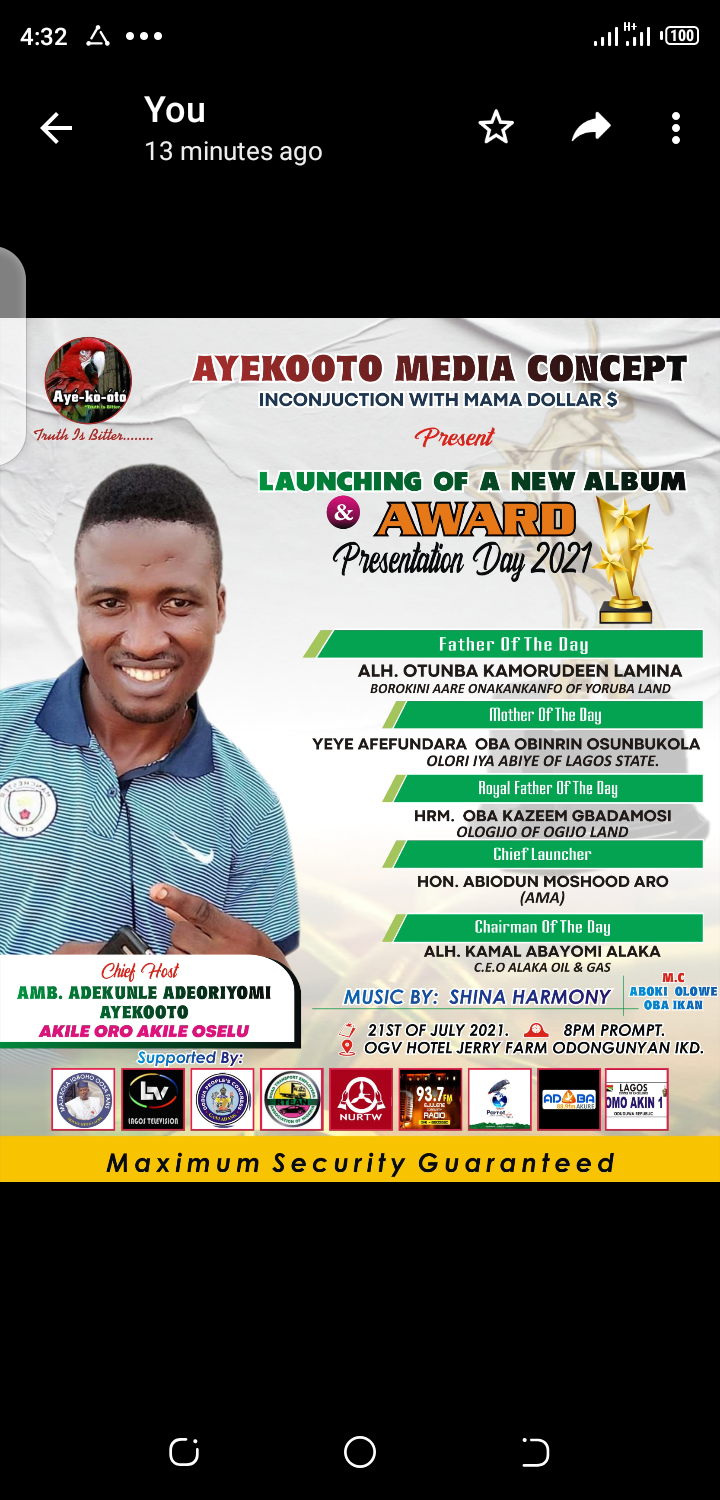 Dedeigbo Ayodeji
OGV Hotel, Odogunyan Ikorodu, Lagos, is set for an album launch and award ceremony.
Entitled Ale Oro, the launch is organised by Ayekooto Media Concept in conjunction with Mama Dollars, and billed to start at 8pm with Aboki Olowe and Oba Ikan as comperes.
Father of the Day is Alhaji Otunba Kamorudeen Olaseni Lamina, Borokini Aare Ona Kakanfo of Yoruba land; Mother of the Day, Yeye Afefundara Oba Obinrin Osunbukola, Olori Iya Abiye of Lagos State; Royal Father of the Day, Chief Adewake Rosululai Oluwa, Baale Oluwa Ibeji; Chairman of the Day, Alhaji Asikokaye Dauda; Chief Launcher; Hon. Abiola Moshood Aro, AMA; Co-launcher, Otunba Waliu Daisi, NURTW vice chairman, Lagos State; Co-launcher, Alhaji Sulaimon Onabanjo Ajisakin, RTEAN chairman, Lagos State.
The event is sponsored by Chief Mrs. Dolapo Babatunde (Mama Dollar).
Also, many prominent Nigerians shall be honoured at the event in recognition of their contributions to the society.
Those slated to be honoured at the event include: HRM Oba Osunbukola Afefundara Olomitutu; Olori Iya Abiye of Lagos. Chief Awojobi Moshood Olaifa; Chief Adegboyega Adeleke (Akeweje of ketu); Alh. Asikolaye Dauda; Comrade Habeeb Akinyele (Omo Akin 1); Chief Kareem Taiwo Oluwa Balogun of Oluwa land; Comrade Tokunbo Wasiu Ekemode, OPC chairman Ijede Lagos; Chief Rosululai Adewale Oluwa, Baale of Oluwa Ibeju Lekki; Chief Mrs. Babatunde Dolapo (Mama Dollar); Otunba Kamorudeen Olaseni Olanbiwonninu Lamina Sir Kay Oluwo and Dedeigbo Ayodeji, Publisher of Town Crier News Nigeria Opera News Studio.
Friends of the awardees are expected to buy four yards of ankara fabric for N2500 in support of the event.
The event is powered by LTV…
---