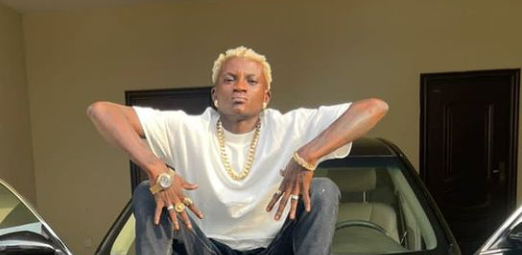 K Solo reiterated that Portable's bad manners of constantly dragging his helpers; Kogbagidi and Poco Lee in public is not just unacceptable, it will adversely affect the career of other new artistes.
The popular hit maker explained that "sincerely, I'm just tired of that guy (Portable). When I said I'm tired, it's not on his case alone. I'm tired because what he's doing is not going to favour a lot of new boys coming up; it will be difficult to see people that will assist them because Portable's case will be used as a reference point."
K Solo added that "with my decades of experience, I have come to realize that the industry pressure doesn't reduce your excesses —it adds to it. If you're a mad person, the industry will boost the madness, vice versa. The industry just brings out the worst part of you. So it takes strong personalities around you to curb those excesses."
"For Portable, he needs attention because you can't just always burst like that and in the next minutes you're apologizing. And I must say this; for those artistes that are indulging in hard drugs and are seeing it as fun, this is part of the end results. Some of them use it and become very wild, while others use it and become very quiet and calm.
"Imagine if Portable had a gun, he could have pulled the trigger. He needs to be worked on," K Solo concluded.
A few weeks after his Zazu Zeh song featuring Olamide became a hit in December 2021, Portable has been enmeshed in series of controversies.
---