Posted. By Admin
By Dedeigbo Ayodeji ,and Onwuemene Judith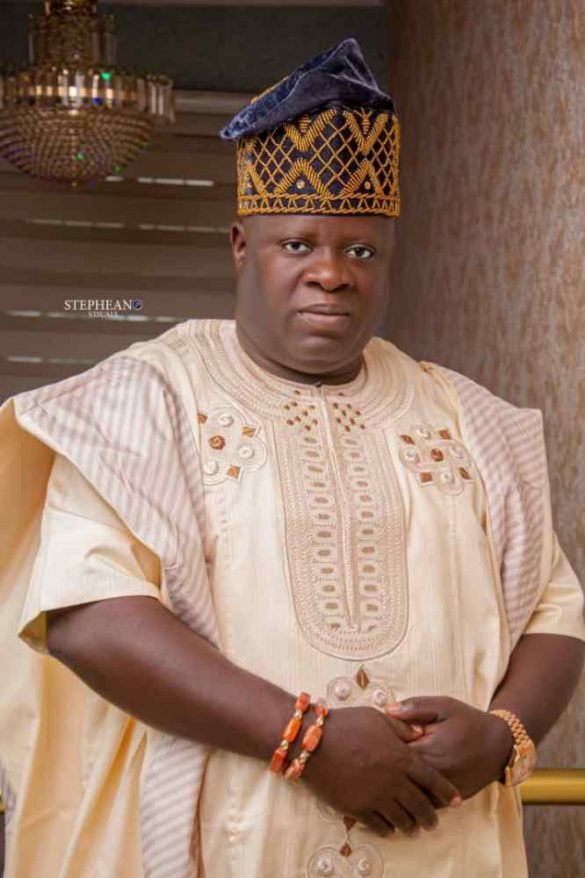 The Managing Director/Chief Executive Officer of Omolamina Global Venture, Alhaji Kamarudeen Olaseni Lamina, popularly known as Sir. K Oluwo, has debunked the rumour going on alleging that he was behind the violent clash going on in Gberigbe area of Ikorodu, a Lagos suburb.
 Oluwo who expressed his displeasure over the frequent clashes in the area, said the situation was him quite uncomfortable is Ikorodu is not a place he resides before.
Oluwo who addressed the media on Saturday to set the record straight, revealed that he was on admission between May 15 and 21, 2021 when trouble started.
"I was discharged on May 21, 2021. It when I came out of hospital that i heard about the ongoing fracas here in Ikorodu. The two families that at war know themselves
"Both families have contracted rival cult gang members to help actualize their wish.
"Those who do not have a name are the ones shouting Sir. K up and down" he said.
Speaking further Oluwo explained that he was invited by policemen who came from the police Force Headquaters Abuja and invited him.
"I honoured the invitation and during which they took my statement and left. They went to the hospital where I was admitted. The medical director gave them my medical history.
For Advert placement Town Crier News Nigeria is there to serve you better.
"The family head in Gberigbe and their secretary also did their independent findings on the unfortunate incident and found out that I knew nothing about the the crisis. They wrote me an apology letter, stating that I should please forgive them."
Oluwo further disclosed that he attended a wedding in Shagamu and spent the entire day there.
"I left the venue in the evening and got to Odonguyan about 8:30pm.
" To my own surprise, on Sunday, I received a call that Gberigbe people have. I told them that i was not interested.
"The news is everywhere that they killed a mobile policeman. Luckily, Imota Police station went to the scene of the incident and arrested some people. Those arrested were transferred to the State Criminal Investigation Department Panti, (SCID) for proper investigation.
"I have the belief that the police will do a thorough investigation to unravel the situation. They will know the perpetrators and their sponsors; that is all I can say.
He warned those spreading falsehood about him to desist.
"But I want to use this medium to sound a warning message to Nigerian Youth that post nonsense about me without a proper clarification. I will not hesitate to charge the person to court. If they mention Sir. K, I am not the only one answering that name in this Ikorodu axis. We have over 20 people answering Sir. K in this Ikorodu, because people believe I'm the one the moment they mention Sir. K.
"Regarding the rampage going on in Gberigbe, I know nothing about it; my hands are up. I will never be a partaker of this rubbish because I live in Ikorodu. My major properties are in Ikorodu town how will I join them to cause problem in a town where I have my major properties.
"If you look at the people causing problem in the town they are from Ikorodu. Their father happens to be well-known in Ikorodu. Most of these families, their children joined secret cults, which are fighting themselves.
"As for the Gberigbe rampage, I'm less concerned my hand are up. The police should go and do their investigation with the arrested people to know why they are causing problem to the entire town.
Oluwo called for thorough investigation into the matter, insisting that he was out of town when the trouble began and could not have been part of it.
"Once again I was not In Ikorodu; I was in Shagamu in Ogun State. All the pictures we took at that venue are still intact, or is it possible for someone to be in Ishagamu and also be in Lagos?
"The police should go and do their investigation, but as for the arrested ones the police should not release them; they should make sure they do thorough investigation to know the people that sent them; to also know the family that hired them to start causing problem for the entire people of Gberigbe."
Commending the Lagos State Governor, Babajide Sanwo-olu for the measures he had put in place to curb secret cult activities, Oluwo said: "I can remember vividly when I listened to evening news where he sounded it to parents to talk to their children that whoever is arrested among the secret cult society will face jail term.
"I can see that police are already arresting them but they should not be biased. They should not say this is a prince; whoever is found wanting should be arrested and be prosecuted because the problem in Ikorodu town as at today, the secret cults are the major cause of it," he noted.
---