posted By Admin
BycDedeigbo Ayodejji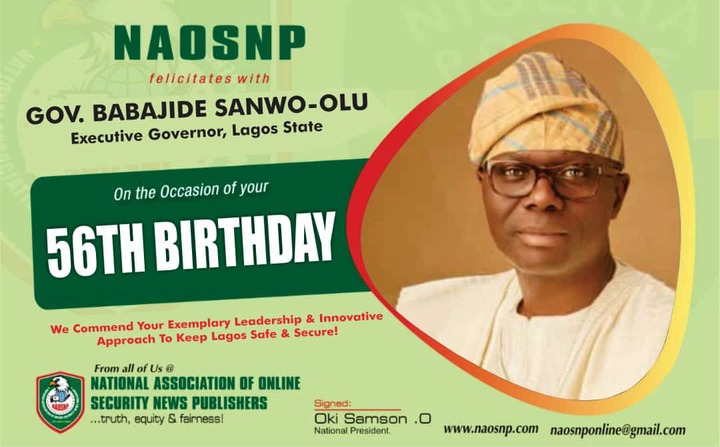 National Association of Online Security News Publishers (NAOSNP), has felicitated with the Lagos State Governor, Babajide Sanwo-Olu, on the occasion of his 56th birthday. The president of the association, Oki Samson on Friday, released a statement to celebrate with the smartworking governor whose sterling performances has been lauded across the state.
Oki in his congratulatory message said the governor is worth celebrating today as a result of his success and good governance in both private and public sectors, and his holistic approach to insecurity in the state, making it a better place for all. The president in his words described Sanwo-Olu as a rare gem and a great achiever in the history of governance in Lagos State. "Today is a joyful moment for our amiable governor for his 56th birthday. "The celebration is coming at a time when most of his works are being appreciated and commended.
"You have proven beyond every reasonable doubt that you are an exemplary role model to the unborn generat

ion of this nation, not leaving out everyone else seeking to have a rewarding career in public service.
"Since inception of your administration, you have continued to make impact, ensuring that the mega city project is achievable. "On behalf of my teeming members, we feel so much happy to celebrate with you today: the reason we join others across the state, Nigeria and across the world to wish you a wonderful birthday. On your special day. We are proud to call you our leader, pathfinder and problem solver. Continue the good work of making Lagos a safe and secure State sir.
Happy 56th birthday Mr. Governor!

---